Jake's StrongGinger™ Ginger Juice
Is Jake's StrongGinger Juice really strong?  You bet!  That's what makes it worth drinking!  Once you've tried it, it will soon become your preferred natural remedy.
Jakes Ginger Juice is ready to ship. Our customer service is impeccable! If you have any issues, please e-mail me at jake@jakesginger.com. I will see that any issues are immediately resolved. I want us to have a great, long-lasting relationship.
Jake's StrongGinger Juice is available in 32oz, 64oz and 4oz glass bottles.  Free shipping is available in most of USA, except east/west US border states, Alaska and Hawaii. Or check our retailer list for a nearby store to purchase Jake's full line of products. 
Here's to your health!
Trusted Across America!
I can NOT even tell you how much I LOVE Jake's StrongGinger™ Ginger Juice!!! I drink it often and daily. I love that my local Millers and Sons grocery is carrying this. It's so delicious and nutritious. The ingredient list is simply and perfection. Thanks for not adding in the junk that most companies feel the need to add. Nice job. I hope I have this in my life forever!

Janelle Hurst Holmstrom, Madison
I truly love Jake's StrongGinger™ Ginger Juice.🧡 It's part of my routine every morning! I love SportTea with about 2 ounces of Jake's mixed in! Most afternoons or evenings I do another 2 ounces in water. Very refreshing & aids my digestion for sure! I purchase mine in Port Washington at That Natural Place! 

MJ Pettengill, Port Washington
I'm 91 years old, and didn't think I could find anything that would make me feel so much better. Jake's Ginger Juice does it. I don't take any medications and have no diagnoses, but try very hard to stay healthy.

Rita McDonald, Wauwautosa, WI
Dear Jake,
This has been the best customer service I swear I've ever received from any company. I appreciate the tip for keeping myself healthy at home and I appreciate your products and customer service… thank you!

Brianna Siedt
It is doing wonders with Jake's Ginger Juice. I am doing a full body detox & I have noticed a steep decrease in the amount of mucus my body creates after starting with your product. I found out about you online. I wanted to make sure I was drinking pure organic ginger & not getting any weak/potentially toxic supplements. You are the only brand I could find that had stellar reviews.

Anthony Castro, San Diego
I drank while in Milwaukee for 10 days on business and Jake's Ginger Juice helped tremendously with my Rhuematoid Arthritis.

Heather Mason, Williamsburg, VA
II like to mix Jake's StrongGinger™ Ginger Juice with apple cider, & honey. Warm it up & its delicious! It helped with my nausea during chemo, & I still drink it everyday!

Rebecca Simon, Sheboygan
Jake's Ginger Juice is good for thyroid health. No more levothyroxine. 🙂

Betty Sandley
Thank you! Jake's StrongGinger™  Ginger Juice helps clear the lymph nodes and that will be highly beneficial for our healthcare workers. I drink four ounces every morning. This is a really good thing that you're doing!

Nancy Verhey
Pain. Inflammation and Digestion!
Feel Good. Again!
Jake's StrongGinger™ ginger juice is a wonderful "heal-all" brewed with 100% Peruvian Fair-Trade Organic Ginger and fresh Lemons. Nothing else! Jake's has at least a year shelf-life unopened. We recommend consuming within 2 weeks after opening.
Feel Stronger.
Start and end your day stronger with 4 oz. of Jake's StrongGinger™ Ginger Juice. Soon, you'll be feeling so great, you'll make it part of your daily health regimen. Drink straight, hot or cold. Add to your favorite beverage.
Shop Products
Zero Bad Stuff
Jake's StrongGinger has zero calories, zero carbs, zero fat, zero sugar, zero chemicals, zero GMOs and zero preservatives! That's why it scores a nearly "Perfect 10" in the natural health department.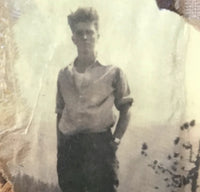 "If You Climb A Mountain, Make Sure It's High Enough."
They were the very words Jake lived by. He was born in 1920 and grew up on a small farm in Steven's Point, WI during the Great Depression.  He left the farm when he was 18, went to art school, married Betty and then joined the army where he served as paratrooper in WWII. During his European tour of duty, his wanderlust that took him around the world. While on the Peruvian trail to Machu Piccu, Jake stumbled upon a gnarly, golden root, the locals referred to it as the "Miracle Cure". Jake's fascination for its amazing cleansing and healing properties inspired Jake's StrongGinger™ Ginger Juice, a renowned Ayurvedic remedy. We make it pure to relieve everything from pain and inflammation to stomach disorders - which means you start and finish your days feeling better and stronger.
Shop Now